The data volume created all over the world is increasing rapidly, by 40% each year. In 2020, it is said that the volume will reach 40 ZB. To address the issue of the rapid growth of data in the big data era, it is necessary to build effective storage systems. Tape storage represents an optimum data storage solution.
Rapid Growth of Digital Data Volume
The data volume created or duplicated all over the world is growing rapidly. In 2020, it is estimated that the volume will be five times more than it was in 2015. It is also said that approximately 70% of the total data volume is cold data, which means that the data is rarely used or not accessed frequently.


Changes in Value of Using Tape Storage
Due to the increasing data amount and changes in the value of data usage, tape storage systems are being re-evaluated.

Trend in Total Volume of Data Tapes Shipped
The total volume of shipped magnetic tape media is growing steadily along with the increasing data volume around the world.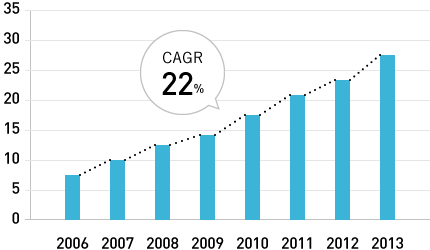 Data Area in Storage
It is said that most of the data created is the cold data that is not accessed frequently.
Although the access frequency is low, the storage of some cold data is obligatory, and it has infinite value in terms of analysis and a variety of usages. Accordingly, cold data is precious and cannot be discarded. Even in circumstances where the data volume is growing, we achieve cost savings and effective data management by defining our own data areas and building an optimal storage structure for each area.